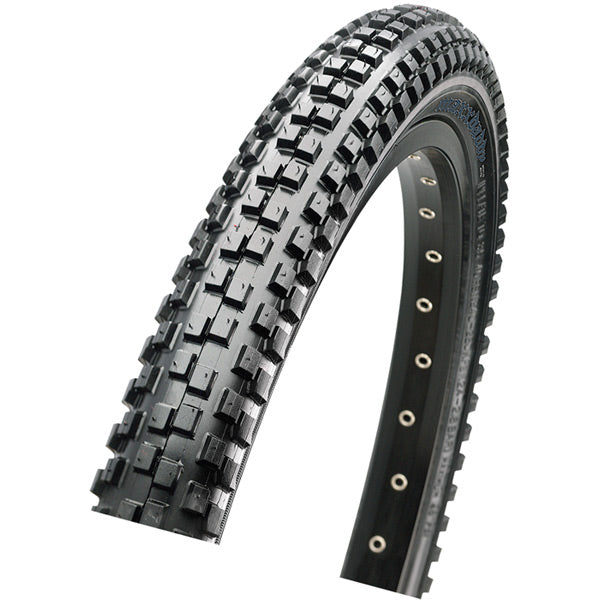 Maxxis Maxx Daddy BMX Tyre
Click & Collect
Pickup available at Warehouse
Usually ready in 5+ days
Maxxis Maxx Daddy BMX Tyre
Black / 20 x 2.00" / 60 TPI Wire Single Compound
Warehouse
Pickup available, usually ready in 5+ days
Unit 9, Hills Hire Centre,Johnstown Rd,Dún Laoghaire,Co. Dublin
+3532840609
Engineered for BMX tracks, trail riding and dirt jumping. Staggered, tightly spaced centre lugs provide controllable speeds.The knob spacing increases near the shoulder lugs to produce two channels that hook up on hardpack berms to loose dirt on the trails
Bidirectional
Engineered for BMX tracks, trail riding, and dirt jumping
Front or rear
Full Square-knob design
Tyre Construction Technology
Basic Tyre Construction
Bead
The function of the bead is to keep the tyre in contact with the rim while the tyre is inflated.
Wire Bead: A rigid metal wire is utilized as bead material in applications where ultimate strength is needed and transportability is not a factor.
Foldable Bead: Foldable beads also keep the tire secured to the rim but are lighter weight and easily transported. The bead is made of spun aramid fibers.
Carbon Fibre Bead: A flexible material with greater strength to withstand the forces exerted by a high-pressure road tire.
Casing
Single Ply: One layer of nylon wrapped from bead-to-bead. A single-ply casing conforms well to the terrain and is lighter weight.
Dual Ply: Two layers of casing material are used from bead-to-bead, providing additional protection and sidewall stiffness for enduro and downhill applications (DoubleDown and Downhill casing tires).
Tubeless Ready (TR)
Tubeless ready tires provide the rider with many benefits: the ability to run lower air pressures, which improves traction; lower rolling resistance when compared to a tube-type tire; and less chance of flatting because there is no tube. Tubeless ready tires are denoted by the letters "TR" on the sidewall. Tubeless ready tires must be mounted to tubeless compatible rims and require the use of a liquid sealant to maintain pressure. Liquid sealants have the added benefit of sealing small punctures. Be sure to check your sealant regularly and refresh as needed as it will dry out over time.
Wide Trail (WT)
Wide Trail (WT) construction optimizes the tire's tread layout and profile on today's modern, wider rims. Traditional tires are designed around older, narrower rims and can create an overly square tire profile, leading to less than optimal performance. WT tires are optimized for a 35mm inner rim width but are proven to work over a range from 30-35mm inner rim widths, depending on the rider's preference.
Maxxis Wide Trail XC tires are optimized for use with 30mm internal width rims, but they will perform well on rims as narrow as 25mm. Maxxis does not recommend rims wider than 30mm or narrower than 25mm
Tubular
A traditional tire construction in which the tire casing is sewn or wrapped around an inner tube. These types of tires must be glued or taped onto tubular-specific rims.
Compounds
The most important part of a tire is arguably the rubber compound within the tread. By changing the amounts of various components of the rubber formula, engineers can make two identical looking tires perform completely differently. A list of Maxxis compounds and their distinct characteristics is below.
Single Compound: One compound throughout the tread optimized for longevity and performance.
Dual Compound (2C): Two compounds used within the tread of select tires to offer lower rolling resistance and increased cornering grip.
Triple Compound (3C): Three compounds arranged in the tire for the ultimate in no-compromise racing performance.
3C MaxxTerra
Maxxis' 3C MaxxTerra is an intermediate triple compound configuration used across our mountain tire line. The 3C MaxxTerra compound offers more traction than 3C MaxxSpeed, yet provides better treadwear and less rolling resistance than MaxxGrip, which makes it ideal for trail riding in all conditions.
3C MaxxGrip
Maxxis' 3C MaxxGrip compound uses the stickiest, slowest rebounding rubber we offer in a mountain bike tire. This high traction compound is the same one used by our top World Cup Downhill and Enduro World Series athletes and is now available in a variety of casing configurations to cover all riders.
3C MaxxGrip + EXO casing = Light duty trail riding in wet/slick conditions
3C MaxxGrip + EXO+ casing = All-around trail riding in wet/slick conditions
3C MaxxGrip + DoubleDown casing = Enduro racing and e-bikes
3C MaxxGrip + Downhill casing = Downhill racing and long travel e-bikes
3C MaxxSpeed
Used primarily in cross country (XC) tires, the two compounds in the outer layer are specially formulated to reduce rolling resistance and optimize treadwear and traction.
*Note that the 3C MaxxSpeed compound is being phased out for the new MaxxSpeed launched in April 2023.
MaxxSpeed
The new MaxxSpeed (2023) is our top-shelf rubber compound for XC racing. It's a high-silica content compound which reduces rolling resistance while also enhancing wet traction. Compared to the previous 3C MaxxSpeed, the new compound has approximately 25% less rolling resistance in a lab setting (using the same tread pattern, construction, and tire pressure). In a real world setting, our testing shows the new compound can save up to a minute over the course of a 90-minute race.
Super Tacky (ST)
Super Tacky (ST) is a special low-rebound, high-traction compound used in select mountain tires.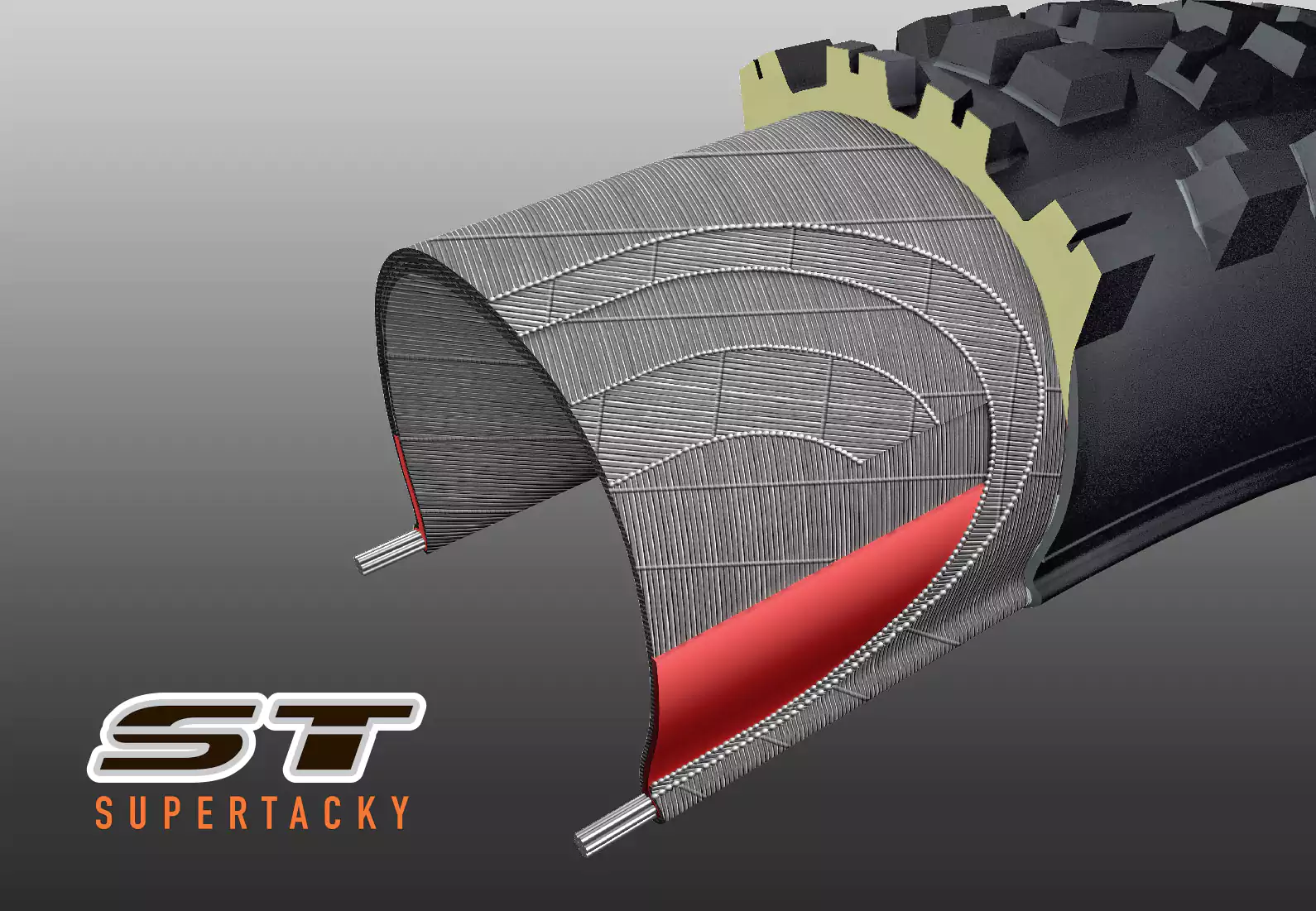 Casing & Puncture Protection
Threads Per Inch (TPI)
The number of threads that cross through one square inch of a single ply of the tire's casing. Lower TPI (ex. 60 TPI) gives better puncture, cut and abrasion resistance but is heavier. Higher TPI (ex. 120 TPI) conforms better to the terrain, offering a smoother, more comfortable ride while reducing the weight of the tire. The trade off being higher TPI casings are more fragile compared to lower TPI casings.
Maxxis TPI ratings are the threads-per-inch of a single casing ply, as compared to some competitor TPI ratings.
Silkworm
Silkworm is an exclusive material incorporated into the casing of select models, increasing puncture and tear resistance. Silkworm is featured under the tread as a breaker.
ZK
ZK is our next generation puncture protection material that is lighter, more flexible, and stronger than previous materials such as K2. Maxxis typically uses ZK as a breaker layer, situated underneath the tread in the middle of the tire.
EXO
EXO is a cut- and abrasion-resistant material added to the sidewalls of many Maxxis mountain bike and gravel tires. This densely woven fabric is lightweight and highly flexible, ensuring that the performance of the tire remains unaffected. Choose EXO Protection for enhanced durability for gravel, XC, and light-duty trail riding.
EXO+
EXO+ is Maxxis' medium-duty puncture protection option suitable for all-around trail riding and light weight e-bikes. We begin with a durable 60 TPI casing, add in our legendary EXO puncture protection layer in the sidewalls, and top it off with a small butyl insert around the bead. The tough casing and EXO material ward off damage from rocks and roots, while the butyl insert protects the tire from pinch flats and helps prevent rim damage.
Double Down (DD)
DoubleDown (DD) is our casing solution for enduro racing and e-bike use. Two layers of our lightweight 120 TPI casing material are combined with a butyl sidewall insert to create a highly durable tire with more trail feedback than a Downhill casing tire. DoubleDown tires are marginally lighter than their Downhill counterparts, but it's really the difference in "trail feel" that sets the two apart. Some riders may prefer the highly damped ride provided by a Downhill casing tire.
Downhill (DH)
As the name implies, Maxxis' Downhill casing tires are designed for extreme use in all gravity applications from downhill racing to bike park riding to free riding to long travel e-bikes. A Maxxis Downhill tire is made with two layers of our durable 60 TPI casing material along with a large butyl rubber insert that extends from each bead into the sidewall. The butyl insert helps prevent pinch flats, protects the rim from impacts, and provides additional sidewall stability.