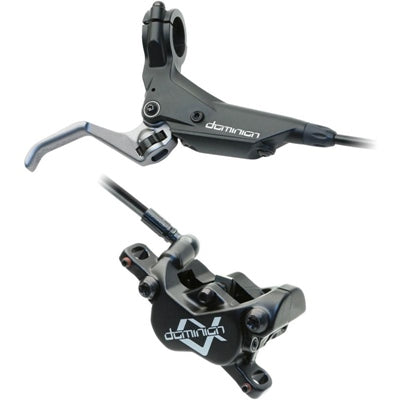 Hayes Dominion A4 SFL (Small Finger Lever) Disc Brake
Click & Collect
Pickup currently unavailable at Unit 9, Hills Hire Centre, Johnstown Rd, Dún Laoghaire, Co. Dublin
Hayes Dominion A4 SFL (Small Finger Lever) Disc Brake
Black/Grey / Front
Unit 9, Hills Hire Centre, Johnstown Rd, Dún Laoghaire, Co. Dublin
Pickup currently unavailable
Unit 9, Hills Hire Centre,Johnstown Rd,Dún Laoghaire,Co. Dublin
012840609
Warehouse
Pickup currently unavailable
Unit 9, Hills Hire Centre,Johnstown Rd,Dún Laoghaire,Co. Dublin
+3532840609
Featuring Hayes's Small Finger Lever (SFL) design, this mountain bike (MTB) hydraulic disc brake delivers a secure and reliable braking feel. Its award-winning build and intuitive lever design also make it an ideal choice for riders with smaller hands or those who prefer a smaller lever. Developed for precision, this version also comes kitted out with a four-piston caliper for smooth braking control and consistency as you weave your way from trail to trail. Another highlight is this model's range of technologies that include tool-free reach adjustment. As a result, you'll benefit from the simplicity of being able to fine-tune the distance between your handlebar and the brake lever to match your riding style and personal preferences as well as the terrain.
MTB DISC BRAKE WITH FOUR-PISTON CALIPER
Dominion's master cylinder is factory tuned for the shortest dead stroke possible and a crisp bite point. The Dominion A4 caliper utilises four pistons in the most structurally rigid design possible. It features a cold-forged caliper and KingPin structural pad retention bolt that increases stiffness.
DUAL PORT BLEED SYSTEM AND DOT 5.1 FLUID
With a motorsports-inspired Two-Stroke dual-port bleed system, industry-leading DOT 5.1 fluid and Kevlar hose, the hydraulic system is engineered for ultimate performance across all temperatures and easy maintenance.
Dominion A4 also features the proprietary QuickBite² system for fast and consistent burnish, when coupled with the D-Series rotor (available separately) to manage the heat with less braking noise.
The Hayes Dominion A4 SFL Brake Kit is a perfect choice of upgrade for riders with smaller hands who want to enjoy reliable braking performance on the trails.