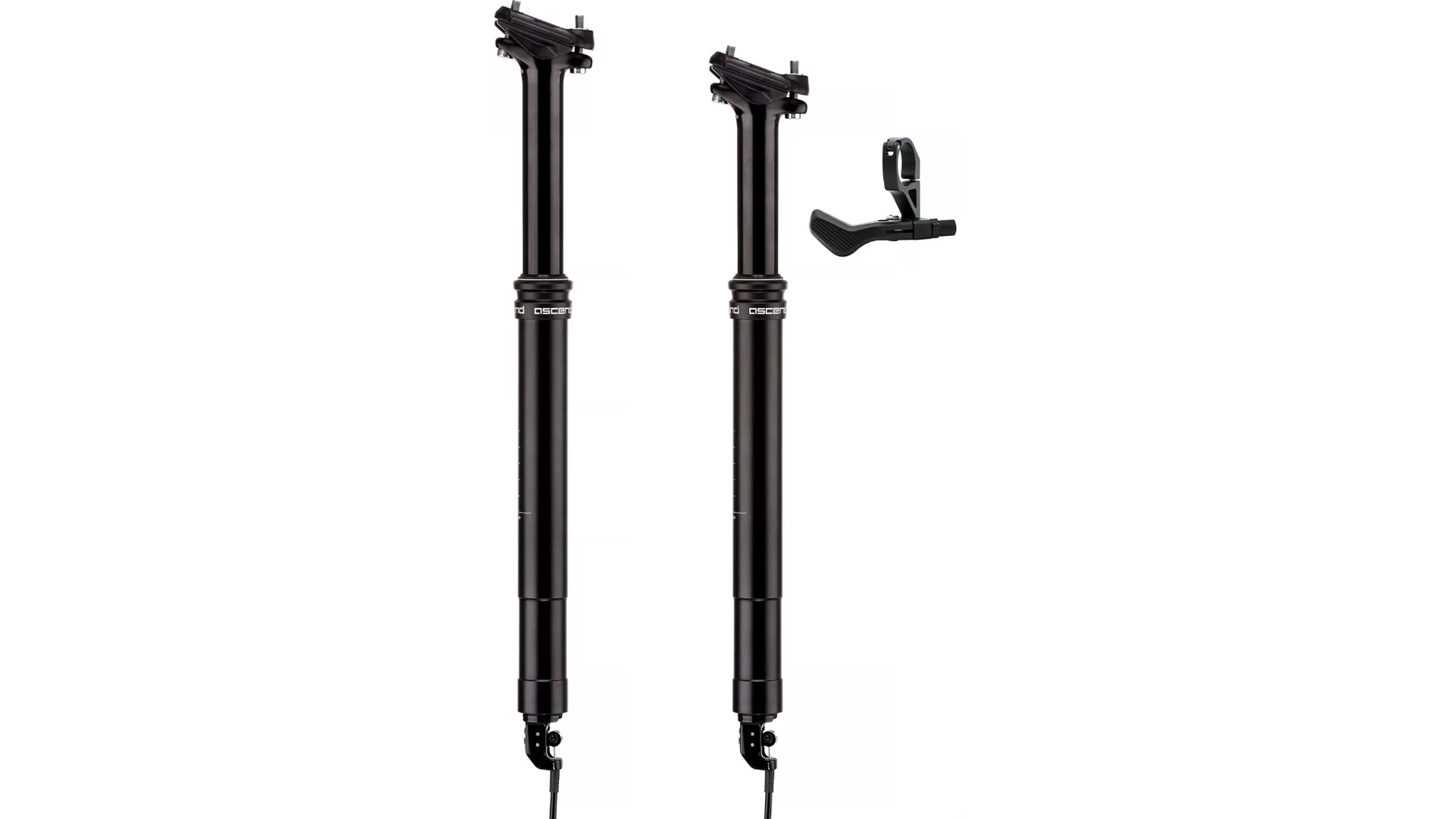 Brand X Ascend Internal Dropper Post (125mm & 150mm)
Click & Collect
Pickup available at Unit 9, Hills Hire Centre, Johnstown Rd, Dún Laoghaire, Co. Dublin
Usually ready in 24 hours
Brand X Ascend Internal Dropper Post (125mm & 150mm)
31.6mm 125mm Drop
Unit 9, Hills Hire Centre, Johnstown Rd, Dún Laoghaire, Co. Dublin
Pickup available, usually ready in 24 hours
Unit 9, Hills Hire Centre,Johnstown Rd,Dún Laoghaire,Co. Dublin
012840609
Warehouse
Pickup currently unavailable
Unit 9, Hills Hire Centre,Johnstown Rd,Dún Laoghaire,Co. Dublin
+3532840609
The Brand-X Ascend dropper post is one of our favourite products here at the Bikerack. Not only is the Ascend post Affordable, durable and reliable but it also outperforms many much more expensive seatposts on the market. It's no wonder most of the staff here have one on their bike.
We think a dropper post is the best upgrade you can make to your mountain bike and at this low cost and performance, it's hard not to choose the Brand-X ascend dropper post. 
This model is designed for bikes with internal cable routing for a clean integrated setup. Coming in 30.9mm and 31.6mm sizes and with a choice of 125mm and 150mm of drop there's a post to fit almost all bikes. 
If you're a longer-legged individual, check out the Brand-X Ascend XL Dropper post for 170mm and 200mm options. 
Precisely engineered to bring you fast and smooth operation on the trails, the Ascend dropper post will get you into the optimum riding position in a flash. This means you'll be primed for the upcoming terrain so you can attack a climb or descent without having to stop to change your saddle position. Designed for MTB frames with dropper post internal routing, it will give a clean look to your bike too.
Ergonomic Dropper Seatpost
This mountain bike dropper seatpost features an ergonomic remote lever that has been designed to run from where your front shifter normally sits. It's ideally suited for those running a 1x chainring transmission without a front derailleur.

Your bike's frame must have internal dropper post routing for seamless compatibility with this dropper seatpost. To eliminate cable movement/pull, the smooth operating Brand-X Ascend 125mm & 150mm MTB Dropper Seatpost has been cable actuated at the end of the seatpost to deliver consistent performance.
Reasons to Buy:
Incredibly fast and smooth operation.
Gives you an optimum riding position.
Internal cable routing for a clean look.
Effortlessly remote operated.
Features:
Material: AL7075-T651
Diameter: 30.9mm or 31.6mm
Size: 410mm or 480mm
Length/Travel: 120mm or 150mm
Cable Length: 1.5m
Finish: Sand Blasted and Hard Anodised Black
Warranty: 2 Years
Compatibility: Frames with dropper post internal cable routing only
Remote Included: Yes, bar mounted shifter style remote lever
Infinitely adjustable
Cable operated
Internal routing only
Linkage mechanism eliminates any outer cable pull
Zero Offset Head type
One Piece head/Upper Shaft
Micro Adjust clamping mechanism
Rider Weight: Min: 50-55kg; Max: 120kg
Weight: 550g (without cable and shifter, 31.6mm)
Please Note: The "Size" information relates to the seatpost's overall length. To know which size to buy, measure your current seatpost's length and diameter
Minimum Insertion Length Information:
| Size   | Minimum Insertion Length   | Minimum Insertion Length including the actuator (mm) |
| --- | --- | --- |
| 31.6mm x 412mm 125mm  | 90  | 124 |
| 30.9mm x 412mm 125mm    | 90  | 124 |
| 31.6mm x 459mm 150mm   | 90  | 124 |
| 30.9mm x 459mm 150mm   | 90  | 124 |
Specs

Colour:

 

Black
Size:

 

459mm, 412mm
Option:

 

1x Lever
Length:

 

150mm, 125mm
Material:

 

Aluminium
Diameter:

 

31.6mm, 30.9mm